Guided Bowfishing Charters Provided By Bow Deadly Bowfishing Charters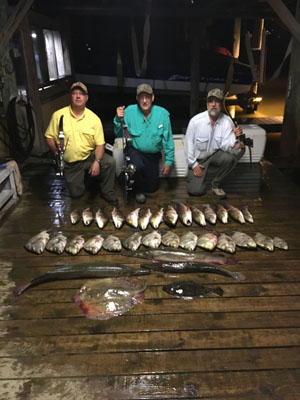 Our goal is for you to have a great time and experience the great sport of bowfishing and/or hog hunting.
Bowfishing charters, chartered rod-n-reel fishing, airboat hog hunts, airboat tours and lodging.
All bowfishing and rod-n-reel fishing equipment is provided on the charters.
Cost for bowfishing is $200/person, a minimum of 4.
Cost for rod-n-reel fishing for Speckled Trout is $225/person + live shrimp.
Deposit of half the total cost of the charter and lodging is required to book your trip.


Things you need to bring are soft drinks, snacks, ice chest for your fish, safety glasses and a fishing license.


If hunting you will need a hunting license and any gun, bow or whatever you will be hunting the wild bores with. Licenses may be obtained at all sporting good stores or purchase your 3 Day Charter Pass here.
My name is Captain Richard Cotten.
With over 40 years of salt water fishing experience and traveling through the marsh locating prime fishing habitats allows us to give you the experience of a lifetime.
We are located at 191 West Bayou Lane, Port Sulfur, LA, 70083, on the bayou of Lake Hermitage in southeast Louisiana 28 Miles south of New Orleans, LA.
Cell:
504-258-3995
Email:
[email protected]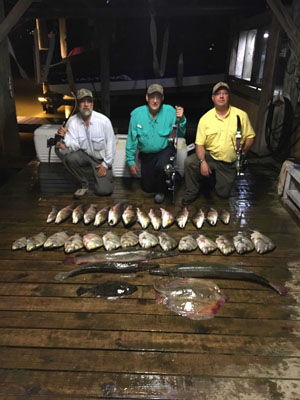 Are you looking to catch redfish, speckled trout, alligator gar, black drum, flounder and more or hunt a wild bore? Contact Us
Barbecue pit and ice provided. Must supply own food, drinks and toiletries. The camp includes a full kitchen, satellite tv, washer & dryer. This camp can sleep 18 people, 10 in one house and 8 in another, and for larger groups we can accommodate for that as well. You can fish right from the dock of the camp if you wanted to as well. Cost for lodging is $50 per person, per night.

View all lodging images